01 Aug 2019
Young Adults at the Chamber Concert Series
by Josie Wilkinson
What do you think of when you imagine an orchestra performance? The beautiful music? A fun night with friends and family? An extravagant atmosphere? Or maybe your mind flashes to the scene in "Pretty Woman" when Julia Roberts' character attends an opera and immediately feels out of place among society's most privileged.
Whether the opera or the symphony, a common misconception about fine arts performances is that they're not for everyone–that there's an appropriate age, income, and occupation required to be an audience member.
Classical concerts often fall short of one demographic in particular–young adults. It's completely understandable. The majority are either students or working, establishing themselves in the "real world," resulting in a small number of attendees. But what about the ones who do attend classical concerts? Why do they count themselves among typical audiences as attendees of fine arts performances?
At our most recent Deer Valley® Music Festival Chamber Concert Series performance, Deer Valley® Music Festival Principal Conductor Conner Gray Covington conducted the Utah Symphony as they performed Beethoven and Dvořák: The Romantic Violin, featuring Associate Concertmaster Kathryn Eberle on the violin. St. Mary's Church was crowded with an audience that averaged in their mid-50s and older, allowing the young adults in attendance to stand out as the minority. We were able to discuss their own attendance to the symphony with several of these audience members.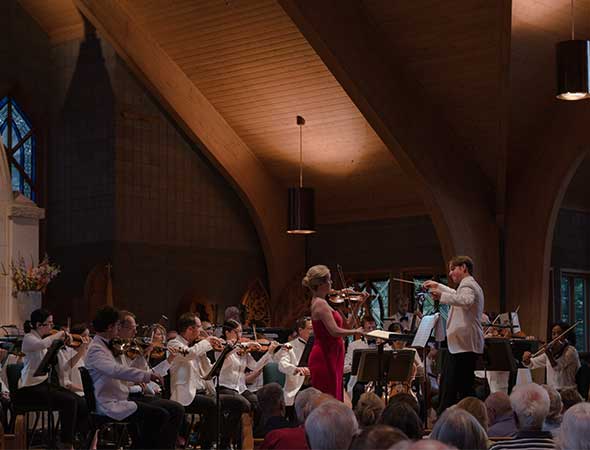 How Often Do You Attend Symphony Performances?
Maya Johnson, an 18-year-old student at the Curtis Institute of Music in Philadelphia, confirmed that she attended Utah Symphony performances frequently over the last few years. "I've been to every Utah Symphony concert, twice a week, for the last three years," she said. "My family lives in Salt Lake, so the concerts in the city are easy to attend." An aspiring conductor, Johnson praised the Utah Symphony's student discount for allowing her to enjoy so many performances.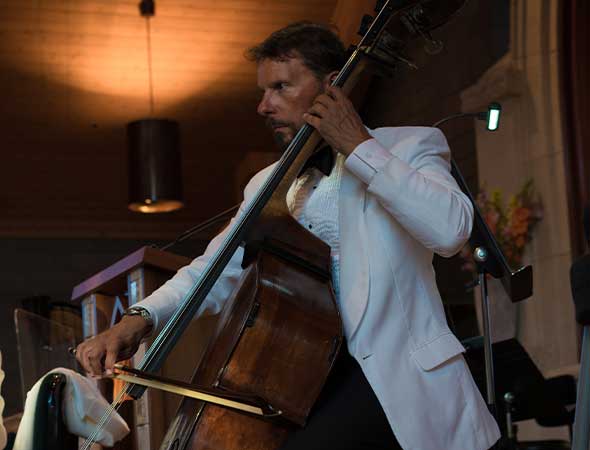 Kate Vaughn, a 19-year-old student at the Berklee College of Music in Boston, said that she only attends symphony performances, usually the Boston Symphony Orchestra, once or twice a year. She is more likely to attend if there's a featured violinist, as she is hoping to graduate from Berklee in violin performance. "It's hard because I'm so busy with school, but I really love to watch the symphony so I'll go when I can," said Vaughn.
Friends Shelby Shill and Mallory Ash, both 26 and working full-time in Salt Lake City, attend the occasional Utah Symphony performance when their busy schedules allow. "My grandpa has season passes for the classical concerts, so every once in a while we'll take advantage of those to go see a concert," said Shill. "It's not something we do all the time, but we enjoy going together as something to do."
Do You Think It's Important for Young Adults to Attend Classical Performances?
"Oh absolutely," said Johnson. "Music is an important intellectual experience for people of all ages. Especially younger people, because it allows us to connect with tradition in a way that's unique. I think it definitely could be for everyone, because music is what you make it. That's the whole experience. Coming to classical concerts allows you to focus on something for two hours at a time."
Vaughn's response was similar in that she was drawn to the excitement of a classical performance. "I like to go to these concerts with my friends who are also studying music, because then we all have something to watch. I like to watch the violinists, while my friend who wants to become a conductor will watch the conductor. But even then it's just enjoyable to watch it all come together into a composition that everyone can listen to. I think everyone should go to the symphony at least once, because there's something for everyone."
Shill and Ash revealed that although they have backgrounds in musical performance, it has nothing to do with their symphony attendance. "It's really become a whole experience for us," said Ash. "The first time we came we thought, hey this is pretty cool! And now we really enjoy making a night of it together. So I think everyone should try it, even if you don't think you're the type to go to the symphony. Just find a friend and go enjoy the new experience together."
Attending the Utah Symphony's Beethoven and Dvořák: The Romantic Violin and having the opportunity to interview various younger audience members confirmed what my musically-gifted roommates have been telling me for months: anyone can attend a symphony performance. Although I had zero experience with the music performed that night, I was still able to enjoy the tranquility of the venue and the eloquence of the pieces performed, most especially by Ms. Eberle on the violin. I agree with Shill and Ash–a symphony performance is an experience that everyone should try at least once.
For information about discounted tickets for students, check out the link below.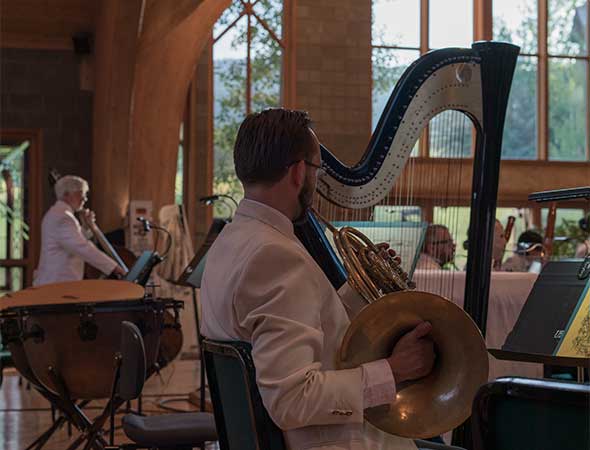 https://utahsymphony.org/tickets/student-tickets/
Tags