15 Jul 2019
Where were you during the moon landing?
It wasn't long ago that the idea of sending someone to the moon seemed like a dream—but 50 years ago on July 20th the first human beings landed on the moon. Since then, there has been a boom pioneering efforts to push the boundaries on space exploration—including building the International Space Station, sending a rover to Mars, and even talks of having another trip to the moon in 2024.
This summer, the Utah Symphony is celebrating this monumental achievement with an unforgettable concert at the Deer Valley® Music Festival featuring stellar classics like excerpts from Holst's "The Planets" and pop-culture favorites like the main title from "Battlestar Galactica." The show will even include footage from the actual Apollo 11 moon landing!
Want a chance to win tickets to the concert? Here's your chance!
Select the 'Enter Giveaway' button below and, in the form, write where you were (if you witnessed it) or what space exploration means to you with your name and email. We might feature your answer on social media.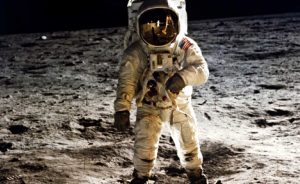 Enter before July 20th, and we'll pick a few people to each win two general admission tickets to A Symphonic Space Celebration. Winners will be chosen based on the quality of their answers.
The entry deadline for this giveaway has passed.
Tags