19 Jul 2019
Mozart – Concerto No. 23 in A Major for Piano and Orchestra, K. 488
Performance time: 26 minutes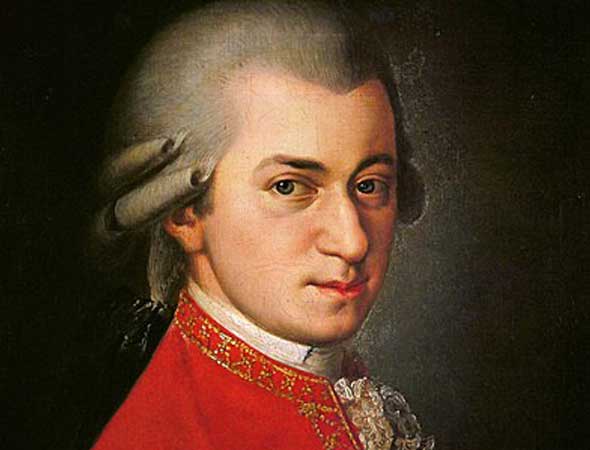 Mozart moved to Vienna when he was 25. He arrived there on March 16, 1681, and wrote some of his greatest piano concertos there—some fifteen in all, including No. 23. In 1784 alone, he produced three; he completed No. 23 in 1786, the same year as his opera The Marriage of Figaro. The concertos were a means to showcase his talent as both a composer and a piano virtuoso.
In modern times, especially after Peter Shaffer's all-too-influential play Amadeus became a feature film, our shared notion of Mozart's character and his motivation for moving to Vienna has been shaped by Shaffer's brilliant characterization of the composer as an unfathomably gifted genius in matters musical, but immature and naïve in all other respects. Shaffer, of course, never aimed for historical accuracy in modeling a fascinating but wholly fictional rivalry between Mozart and his contemporary Antonio Salieri, whom Shaffer presents to us as canny, worldly, cynical, manipulative and—most of all—envious of Mozart to the point of homicide. The contrast between them sizzles on stage as it never did in life.
Shaffer's funny, dark drama is not only great fun; it is also fascinatingly speculative, conjuring emotions and contradictions that Mozart's genius could well have provoked both in himself and in those around him. But we pay a price for our enjoyment, among them a somewhat distorted view of Mozart's move to Vienna. His motivations and expectations for this move were probably not those of an unrealistic, impulsive brat. With his career stalled in Salzburg, it was natural for Amadeus to want to live in the most important cultural capital in central Europe; Salzburg was a backwater by comparison. True, the vituperation in Mozart's letters to his father fit Shaffer's depiction of him as a childish savant, but both father Leopold and his son felt that Amadeus was far more talented than any of his rivals. Besides, neither one dreamed that we would be reading their very personal correspondence more than two centuries after it was written.
Of course, the very paternal Leopold looked upon his son's relocation with some trepidation. There were musical commissions to be secured and lessons to be taught, but to get such work required contending with the petty politics of the Viennese court and aristocracy — something resembling a viper's nest. Leopold knew all too well his son's impatience with such matters. So, for that matter, did Amadeus himself. His letters to Leopold often dwelled on Mozart's resentment of those who underestimated him. It should have been a time for him to cultivate and consolidate favor in court and line up business elsewhere in Vienna, but professional obligations held over from Salzburg stood in his way, and the archbishop refused to release him from these requirements. His festering irritation made things worse. On one occasion, an evening of entertainment hosted by the archbishop, Mozart supplied a violin rondo, and an aria and a sonata for himself. His compensation was a modest as the program. Had the archbishop released Mozart to perform for the emperor that same evening, he could have earned the equivalent of half his salary in Salzburg.
In a meeting with the archbishop, matters reached a climax that unleashed a torrent of abuse from the archbishop and a request from Mozart that he be discharged. At first the request was refused, but the archbishop eventually released Mozart with what he described to Leopold as "a kick on my arse."
This concerto is one of two that Mozart composed in the key of A Major, and both share a glowing, sun-dappled mood. In this relatively late work, Mozart feels free to begin with gentle introspection rather than high drama, and the alternation between soloist and ensemble is more complex than in his earlier concertos. The second movement is a breathtaking adagio in the tempo of an Italian siciliano, and is exceptionally poetic in expressiveness—even for Mozart. In the final movement, a rambunctious allegro assai, he braids a profusion of melodies in "sonata-rondo" form, combining a recurrent primary theme with a series of other tunes that are resolved in sonata-style resolution. This bit of compositional bravura, combining both melodic abundance and structural deftness, may be one reason why Mozart included it among the works he sent to the Austrian town of Donaueschingen in hopes of winning a commission from Prince Fürstenburg.
Tags