Summer is a time to escape the cares of everyday life and enjoy the warm weather, spending time with friends and family, and—of course—experiencing great concerts at the Deer Valley® Music Festival! This is our 15th annual festival, and we can't celebrate 15 years of summer fun without an incredible lineup.
Here are some of this year's highlights:
Sutton Foster with the Utah Symphony – July 21
There will be no shortage of star power at the Deer Valley® Music Festival this year with Tony Award winner Sutton Foster! Enjoy the mountain venue while being serenaded by one of Broadway's most versatile leading ladies.
 Rick Springfield with the Utah Symphony – July 20
You better love this concert. Grammy Award®-winning singer/songwriter Rick Springfield—whose chart-topping hits include "Jessie's Girl," "Love Somebody," and "An Affair of the Heart"—is coming to perform this explosive concert with the Utah Symphony.
The Music of John Williams – July 28
Experience a thrilling night under the stars featuring music from John Williams' greatest film scores, including Raiders of the Lost Ark, Jurassic Park, Harry Potter, and Star Wars.
The Music of Pink Floyd – August 11
This concert will be more than just "Another Brick in the Wall." Hear some of their most popular hits like "Comfortably Numb" and "Hey You" in an electric performance powered by the Utah Symphony.
Broadway Hits by Stephen Sondheim and Andrew Lloyd Webber – July 7
This show will have you singing along as you listen to some of Broadway's greatest hits by Stephen Sondheim and Andrew Lloyd Webber.
The 1812 Overture with the Cannoneers of the Wasatch – August 10
No Deer Valley® Music Festival show would be complete without an explosive finish! The Cannoneers of the Wasatch will join us again in this spectacular performance that's tailor-made for the outdoors. The Utah Opera Chorus will also provide their angelic voices
Chamber Concerts at St. Mary's Church in Park City – July 11, July 18, July 25, and August 1.
With great concerts like the ones above, your weekend getaways will be easy to plan. But what if you need an escape during the week? We have four chamber concerts on Wednesday evenings during the summer which are sure to take your breath away. These concerts feature the Utah Symphony in the stunning and intimate venue of St. Mary's Church with many of our principal musicians as featured soloists. Repertoire will include Mozart's Violin Concerto No. 5, Mozart's "Jupiter" Symphony, Beethoven's Symphony No. 1, and Beethoven's String Quartet No. 2.
This summer will be filled with other great performances like Amos Lee, The 70's vs. The 80's, ABBA: The Concert, Ricky Skaggs & Kentucky Thunder, and Rachel Porter. See our full schedule here!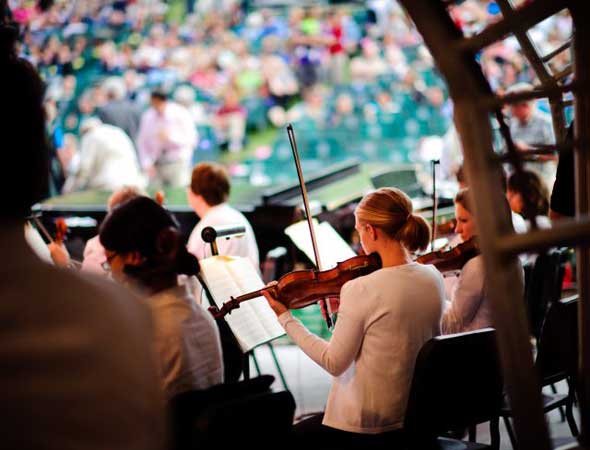 NOTE: Kristin Chenoweth was originally scheduled to perform on July 21. She must postpone her performances this summer due to ongoing complications from a past neck injury and will take time off so she can properly heal. We wish her a quick recovery. She will return to perform with us in 2019 on a date that will be announced at a later time. (Edit made 6/6/2018)