26 Jul 2016
Between the Barlines

Will Hagen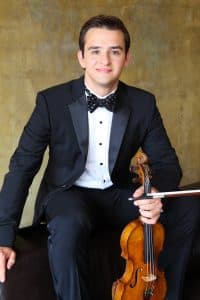 During the 2016 Deer Valley Music Festival, the Utah Symphony has launched a weekly interview series entitled "Between the Barlines," which seeks to reveal aspects of guest artists' lives outside of the music for which they are known, including things such as their backgrounds, their influences, and their non-musical interests.
A Utah native, award-winning violinist William Hagen has emerged as one of the world's most accomplished young violinists. William made his professional debut with the Utah Symphony at the age of 9, and since then, has earned international acclaim, winning third-prize at the 2015 Queen Elizabeth International Music Competition, the highest ranking American since 1980. For his performance with the Utah Symphony at the Deer Valley Music Festival on August 5th, William will be classic masterworks including Tchaikovsky's 1812 Overture.
In this interview, William Hagen discusses his early childhood, playing for the Salt Lake Sluggers baseball team and his beginnings with the violin at the age of 4. In addition to his experience entering the challenging world of classical music and where he thinks the genre is headed in the future, William also exclaims love for more contemporary music, including the recent Justin Timberlake hit "Can't Stop the Feeling" and legends like Marvin Gaye.
However, William's earnest and down-to-earth nature shines when he talks about his home state of Utah, "From the bottom of the heart, I've been a lot of places and I love Utah. Every time I come home and I look at the Wasatch front I think, 'my gosh.' I haven't found a more beautiful cityscape in the world…I've been to some pretty cool places and I've never seen mountains so close to the city. It's a wonderful place and I always like coming home."
Be sure to listen to our interview with William Hagen here and learn more about William Hagen here.
Tags